A few weeks ago, me and my beloved girl were drawing at Mcd Kemang, suddenly my artsy buddy
Dias
shouted on my YM, he asked me to do some collaborative drawing between me and my girl with him and his
girlfriend
, for a sec i thought it has nothing to do with my project which will be released on 2010, but i guess it's a good activity/act of art, especially for my girl progress.
But before i continue, let me tell you a brief story about the art chemistry between me and my bunny.
i've been with Sasa for about 6 months, and we're still in so much love until today (hihihi), everything i did, she always put her interest on it, so am i, when she played her instrument it feels like i am the luckiest dude ever lived on this planet (forgive me, if i am a bit euphoric, sigh*), so when i start to draw or do my daily art stuff, she always smiles and always asked me A LOT of questions about art world (sorry hunny, but you were so cute when you asked me a lot of things!lol) and gives me a lot of input which is amazingly useful.
Later, as the time keeps moving, she felt like she wanna do the same thing with me, she wanted to draw, to design,
and it makes me happy!!So, she started to research from A-Z about art and we spent our time to go to art store buying Copic and stuff, sometime she could stand for an hour just to see the color chart!
Well that's my girl and if i could give her a name or describes her with only one word, it would be
"detailed"
I mean, she's always very detailed in her works, the line, the sketch, and to be honest i don't have that kinda ability, i usually just splatter things, throwing off some ink, i am a complete mass.
So here are my first ever collaboration with my beloved
Sasa
!!
mixed media 2009
The story behind this artwork is all about sacrificing ourself to what we cared most within the cruel bloody world,
as you see the male bird on the left take off his other wing to in order to aid the female bird, and for the background, i draw a massive pile of worms.It means that in our filthy world when material are everything, will you stay the same for your mate, your soul mate, or perhaps, will you die for someone you love most?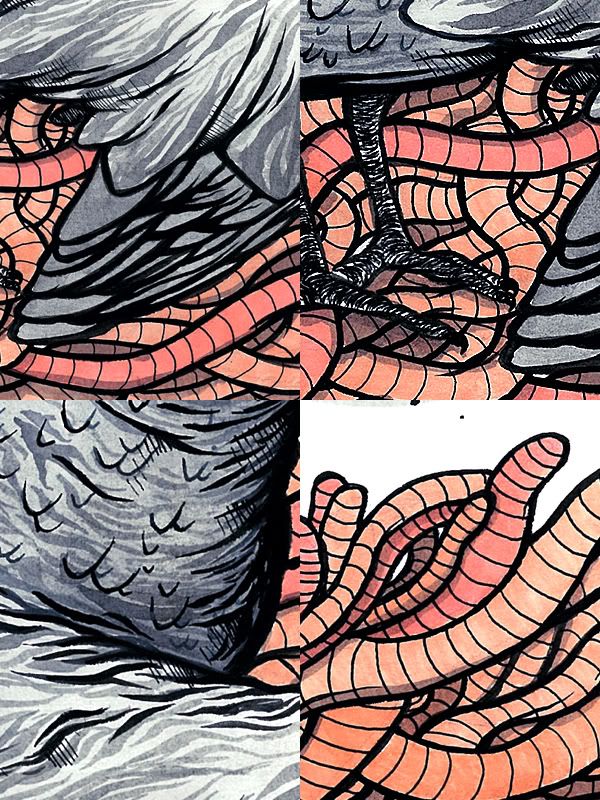 detail
Check out Sasa's blog!
CLICK HERE
"Sometimes when you sacrifice something precious, you're not really losing it. You're just passing it on to someone else."
Mitch Albom (The Five People You Meet in Heaven)