Have you all ever wondered what is your most feared stuff in your life?is it clowns?is it heights?beans?or maybe wood?(yeah that one sounds weird eh?), everyone has their own nightmarish stuff, just like myself.
Me?i'll tell ya, i hate insect above everything! i rather even sleep with some grizzly fuckin' bears than holding a big hairy and stuffed Tarantula for 5 sec!!
Those shimmering yet scary looks from those four eyes makes me wanna blow my own head and for God sake, they're small!yeah, they're small but it really freaks me out.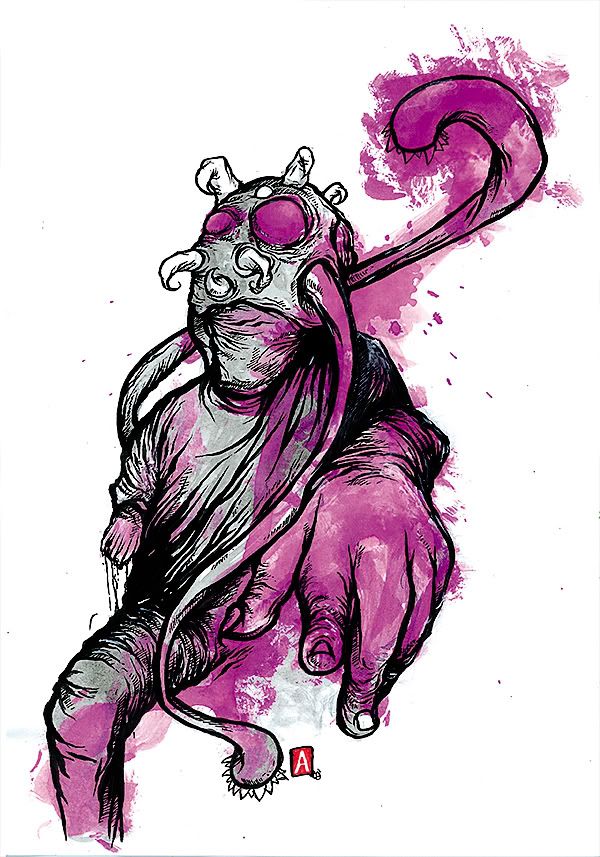 ink & watercolor 2009
Funny isn't it?we humans with so many abilities and God said that we're the highest rank creature lived on earth, but surprisingly afraids with so many unharmed little things, that actually wont hurt us or maybe they even wouldn't go near us.
This drawing is about hellish insect who has lived in our suburban city sewer for a very long time that finally has risen up because its appetite for human's fear cannot be hold much longer.
detail
They usually absorbs the human's blood and flesh by entering from our anus and lays their eggs and their deadly liquid to changes the human body into their body,more like District 9, but even worse, have you watch it?pretty rad and dramatic.
enjoy this piece of junk!